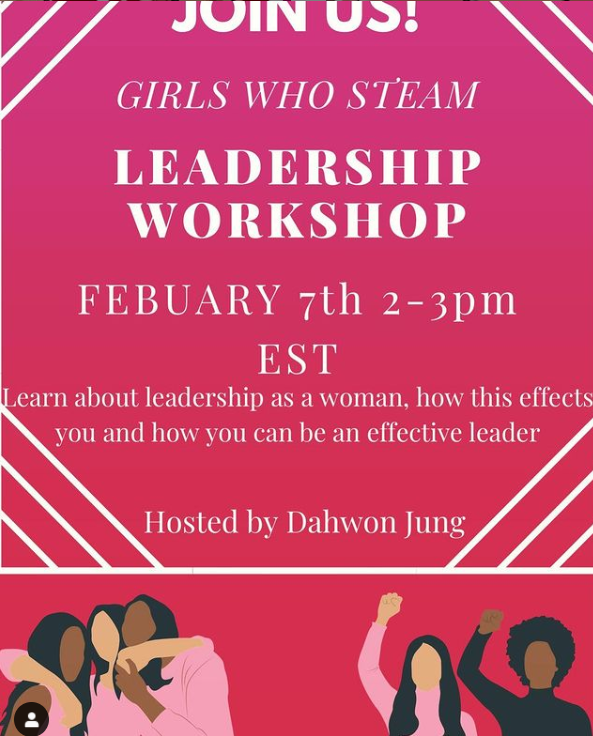 Leadership Workshop
Society as a whole is becoming more aware about the inequalities women face in the workplace, at school, and at home. Being a leader as a woman can be challenging as the prejudices held against women greatly differ from men. On February 7th 2-3pm EST,
@dahwonjung
will be hosting a leadership workshop that gives you insights on how you can learn to be an effective leader in any situation that is presented to you. Several different topics relating to goal setting, confidence, courage, social status, etc. will be discussed. Let us know if you have any questions!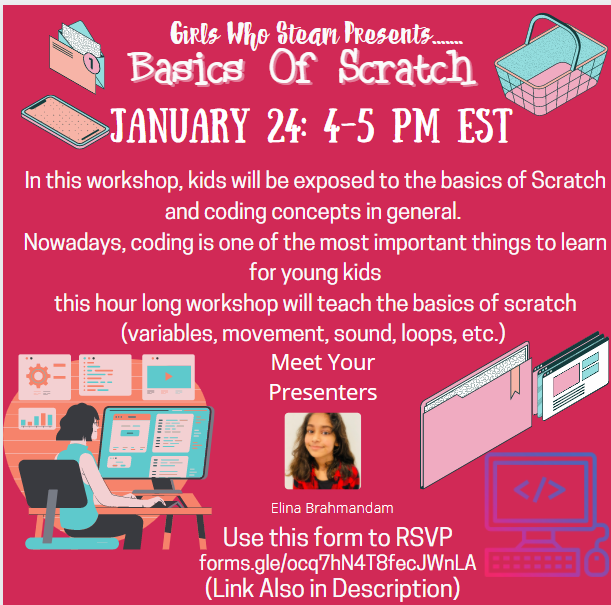 Basics of Scratch
Introducing workshop number 5! On January 24, from 4-5 pm EST, led by student ambassador Elina Brahmandam, this workshop will go over the basics of scratch coding language, including blocks, variables, loops, sounds, etc., all culminating in a fun final project! Link in bio to RSVP!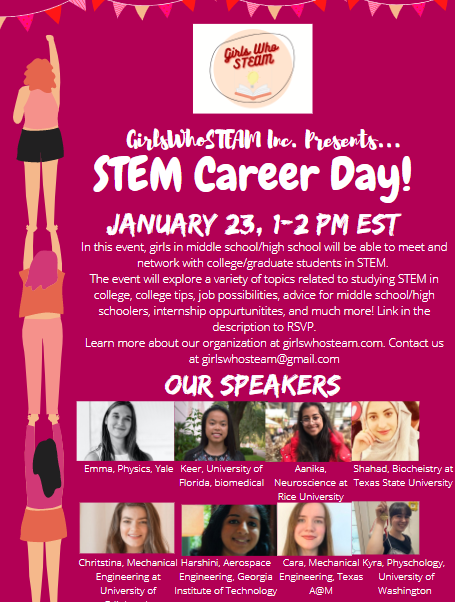 STEM Career Day!
GirlsWhoSTEAM Inc. (
girlswhosteam.com
) will be hosting the STEM Career Day Event on Saturday, January 23 from 12-2 pm EST. The event will explore a variety of topics related to studying STEM in college, college tips, job possibilities, advice for middle school/high schoolers, internship opportunities, and much more!
Fill out the below form to RSVP. You will get the zoom link before the event and will get two reminders for the event, one the day before and one 2 hours before. If you have any questions, please contact
girlswhosteam@gmail.com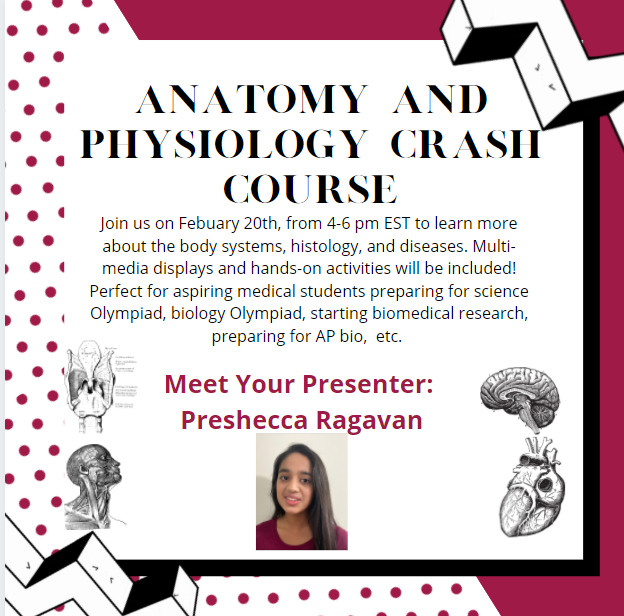 Anatomy and Physiology Crash
Join us on Febuary 20th, from 4-6 pm EST to learn more about the body systems, histology, and diseases. Multi-media displays and hands-on activities will be included! Perfect for aspiring medical students preparing for science Olympiad, biology Olympiad, starting biomedical research, preparing for AP bio,
etc.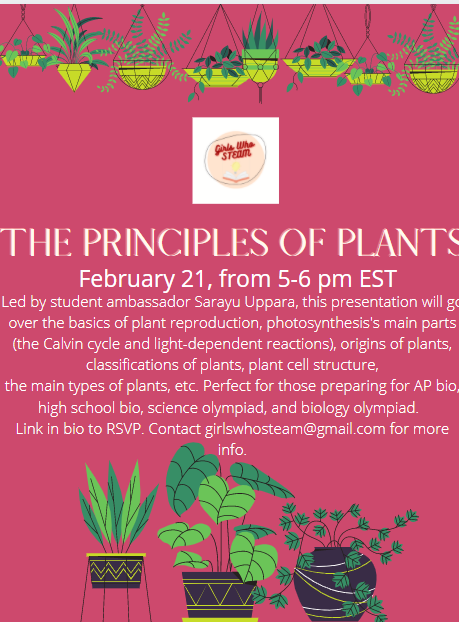 The Principles Of Plants
Led by student ambassador Sarayu Uppara, this presentation will go over the basics of plant reproduction, photosynthesis's main parts (the Calvin cycle and light-dependent reactions), origins of plants, classifications of plants, plant cell structure,
the main types of plants, etc. Perfect for those preparing for AP bio, high school bio, science olympiad, and biology olympiad.
Link in bio to RSVP. Contact girlswhosteam@gmail.com for more info.