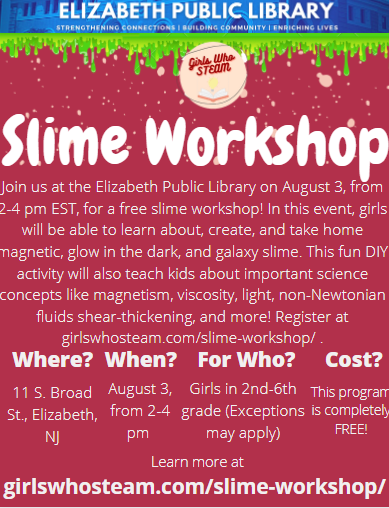 Join us at the Elizabeth Public Library on August 3, from 2-4 pm EST, for a free slime workshop! In this event, kids will be able to learn about, create, and take home magnetic, glow in the dark, and galaxy slime. This fun DIY activity will also teach kids about important science concepts like magnetism, viscosity, light, non-Newtonian fluids shear-thickening, and more!

Agenda:
2:00 pm- 2:10 pm: Check-In, Welcomes
2:10 pm- 2:20 pm: Introductions, Slideshow
2:20 pm- 2:50 pm: Magnetic Slime
2:50 pm-3:10 pm: Galaxy Slime
3:10 pm- 3:40 pm: Glow in the Dark Slime
3:40 pm- 4:00 pm: Worksheet, goodbyes!